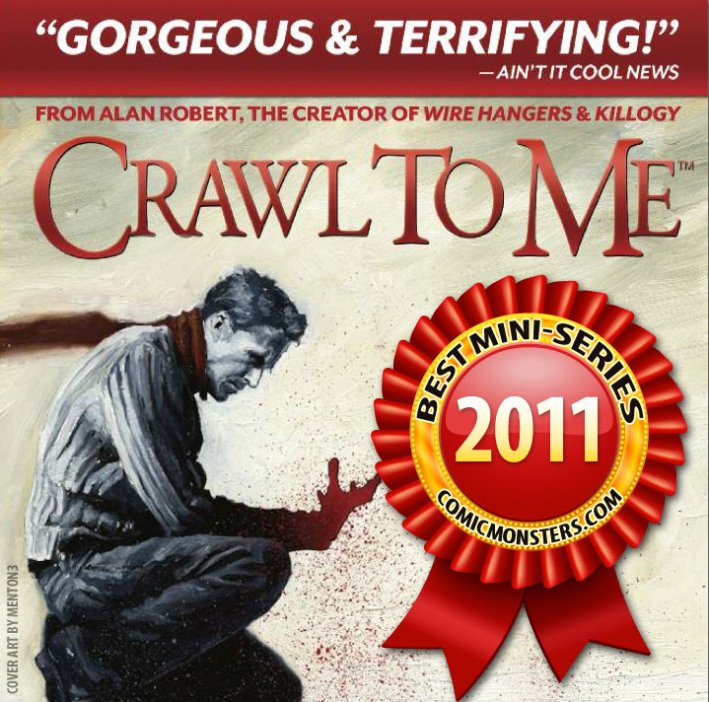 'CRAWL TO ME' HARDCOVER EDITION EXCLUSIVE NEWS >
CRAWL TO ME VOTED BEST MINI-SERIES OF THE YEAR! >
BUY ALAN ROBERT'S COMICS & GRAPHIC NOVELS HERE >
"Artistically, it's filled with images both beautiful and terrifying. Storywise, it's a descent into madness like few others. Having read the entire series, I don't want to give away the gut-punching ending, but it's a winner... Now that I know how it ends, I want to go back and reread this one from the beginning, which I think is the ultimate compliment I can give it." - AIN'T IT COOL NEWS
Click Here for full review >
"Readers will be blown away by the story and artwork of this psychological thriller." - FANGORIA
Click Here for full review >
"Crawl to Me is one of the most highly acclaimed horror titles of the past year, and for good reason. This book will knock you off your feet and awaken you to the horrors that exist in our world every day. Crawl to Me is a book every single horror fan should read." - BLOODY DISGUSTING
Click Here for full review >
"Robert being the master of horror that he is, managed to not only finish the story with an ending that was completely left-of-center but tied Crawl to Me up in a way that couldn't have been done any better. So how did Crawl to Me end? I'm not telling. Crawl to Me TPB is sitting on comic book store shelves as we speak so go out and grab it. I can't recommend it highly enough." - Giant Fire Breathing Robot
"Great storytelling, with not a weak page or sequence to be found." - THE LOTTERY PARTY
"Scarier than a fucking roller coaster!" - EVERY COMIC
"Alan Robert has got what it takes to be one of this decades hottest horror writers." - OUTSIDE THE CUBE
Click Here for full review >
"If insanity could be visualized, it would no doubt look similar to the pages of Crawl to Me." - BROKEN FRONTIER
"Robert is a true master of horror with his story and art... I am really looking forward to what's next from the twisted and broken mind of Alan Robert, one of my new favorite horror writers." - Giant Fire Breathing Robot
Click Here for full review >
5 out of 5 Stars Review: "This series was a fantastic read and the art in this book is amazing. Alan Robert caught the protagonist's mental state and put the reader into that same mind set perfectly for the duration. I was never quite sure what was going on and I couldn't wait to see what would happen next." - RANDOM'S WORLD
"So, did the conclusion leave me satisfied? A resounding yes... I guarantee that you'll be pleased with how Alan has chosen to conclude the series... Overall, this was a unique moment in horror. Alan is a genius creator, and it has been an absolute pleasure reading his work." - COMICBOOKED.COM
"There's no shortage of violence, thrills, and a deep, cerebral creepiness. If you're a horror fan, you will definitely want to check out this disturbing series." - FANBOY COMICS
"COMICS ONLINE RATING: 4.5 massacre hallucinations out of 5! When IDW Publishing announced that Crawl to Me was the next big horror comic, so far it seems they are right." - COMICS ONLINE
"Full of top-notch artwork & spine-chilling narratives... Crawl to Me stays with you long after you turn the last page." - ROCK ON REQUEST
"Five out of five skulls! Given Alan Robert's growing reputation as a horror comic author and illustrator, I'd venture to say he's going to be one of the top names in the genre, so keep your eyes on him." - THE SICKHOUSE
"Five out of five stars! Crawl to Me is phenomenal. Horror fans will love the intense emotional roller coaster of Alan Robert's new series. It will definitely hijack your mind and terrify you in ways you never thought existed." - MGW Graphic Novel Reviews
Click Here for full review >
In 2011, IDW Publishing published Crawl to Me, an original horror comic series from creator Alan Robert. Crawl to Me was written and illustrated by Robert and was published monthly beginning in July 2011. Each issue boasted multiple covers designed by Robert, as well as variant covers painted by MONOCYTE artist, Menton J. Matthews III and UK artist, David Lupton. Robert is best known for being the primary songwriter/bassist of the hard-rock group Life of Agony and the creator of the acclaimed Wire Hangers comic series. Crawl to Me is currently being adapted into a feature film with screenwriters T.J. Cimfel and David White penning the screenplay.
Crawl to Me takes place in an isolated country town during the frigid winter months. The story centers on a young family as they cope with a series of disturbing events that force them to question their relationship, their faith and their very existence. When husband and wife, Ryan and Jessica, move into their first home together, strange things occur. Half-eaten animals and other remains are found inside the basement's crawl space. The family dog disappears within the house. Distant voices and singing are heard from beneath the floorboards. The couple begins to think that an evil entity is living inside their walls. Nothing can prepare them for what they'll discover, and Ryan and Jessica soon realize that they must set aside all they believe to be real, in order to face the inevitable truth.
"I couldn't have been happier to do Wire Hangers with Alan," said Chris Ryall, IDW's Chief Creative Officer, "and to see him stretch in different areas here is even more gratifying. This is a good, dark, psychologically affecting and surprisingly intimate story that I'm happy to foist on an unsuspecting comic-reading public. Put another way, if you survived Wire Hangers with any part of your psyche intact, Crawl to Me should help finish the job."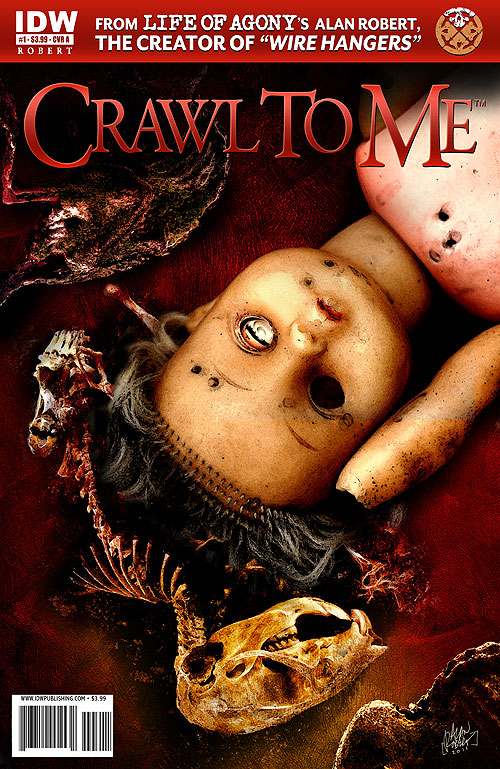 "All my life, I've been told that I have a twisted imagination. By creating these horror stories, I'm finally putting my morbid thoughts to good use," said Robert. "My first series, Wire Hangers, was so well received by comic and horror fans last year that I felt inspired to continue telling stories in the medium. Crawl to Me goes even darker. It's not your typical, run-of-the-mill, haunted house story. It's more of a psychological thriller, filled with demented mind-games that will keep you guessing. Think of it as a Twilight Zone episode on steroids."
About Alan Robert
Wire Hangers is now being developed into a feature film by Executive Producer Ted Adams (30 Days of Night, Locke and Key, Zombie Vs. Robots) with Alan Robert and Jeff Mazzola, attached as producers. In 2010, the four-issue comic series was published monthly by IDW and collected into a trade-paperback book. Wire Hangers, was also awarded the 2010 Cover of the Year Award by ComicMonsters.com.
Alan Robert is currently writing and recording a new Spoiler NYC album titled Banned in 38 States produced by Grammy Award winning producer Ken Lewis (Lenny Kravitz, Beastie Boys, Fall Out Boy). The album will be the sophomore release for the NY based punk-trio, following their 2007 debut, Grease Fire in Hell's Kitchen (SOS Records/I Scream Records).
Robert's other band, Life of Agony, recently celebrated their twenty-year anniversary with a successful European tour where they performed in front of crowds as large as 500,000 people. A double-disc set entitled 20 Years Strong: River Runs Red - Live in Brussels (I Scream Records) is in stores worldwide. The CD/DVD package features performance footage, interviews, backstage antics and a look at Robert's art process for Wire Hangers. For more information about Robert, his bands and comics, visit: alanrobert.com.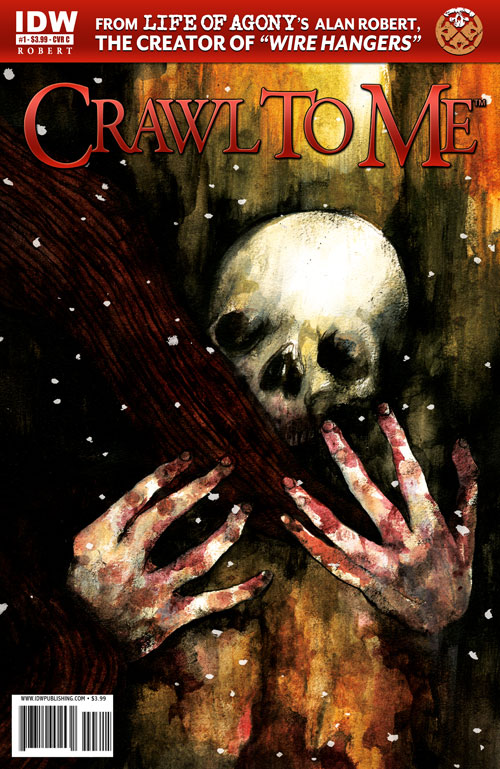 About IDW
IDW is an award-winning publisher of comic books, graphic novels and trade paperbacks, based in San Diego, California. Renown for its diverse catalog of licensed and independent titles, IDW publishes some of the most successful and popular titles in the industry, including: Hasbro's The Transformers and G.I. JOE, Paramount's Star Trek; Fox's Angel; the BBC's Doctor Who; and television's #1 prime time series CBS' CSI: Crime Scene Investigation. IDW is also home to the Library of American Comics imprint, which publishes classic comic reprints; Yoe! Books, a partnership with Yoe! Studios; and is the print publisher for ComicMix.
IDW's original horror series, 30 Days of Night, was launched as a major motion picture in October 2007 by Sony Pictures and was the #1 film in its first week of release. More information about the company can be found at IDWPublishing.com.
AlanRobert.com | The Beauty of Horror: A GOREgeous Coloring Book | KillogyComic.com | KillogyAnimated.com.com | WireHangersComic.com | WireHangersMovie.com | TheShunnedOne.com | LifeOfAgony.com | SpoilerNYC.com | WastedTalentEntertainment.com
©2017 Crawl to Me, All rights reserved.